Legal Practice Areas
Our experienced attorneys are here to assist you in many areas, and our collective experience and knowledge means you can rest assured you will receive the best legal advice out there. Whether you are starting a business, adopting a child, suffered an injury from a vaccine or you are looking to plan for your estate, we are here to help. 
Skip
I have a legal problem, where should I start?
Legal issues can be stressful and not knowing where to start or who to turn to can add additional worry. We are here to help – from our experienced team of attorneys to our caring staff, we want to help take the guesswork out of your situation for you. Reach out today to speak with someone and rest assured you are in good hands. 
What types of cases do you handle?
We take a wide variety of cases from family law matters to corporate litigation. Click through our practice areas to learn more about each specific area of focus. 
How much does it cost to hire a lawyer?
Each case is different; however we invite you to talk with us about alternatives to traditional hourly billing rates. We have traditionally charged for most legal work on an hourly basis and continue to do so in most instances. However, alternative billing methods can provide you with greater predictability as to the total fee you will have to pay and help you budget for the year. Some alternative billing methods also provide for a sharing of the risk between you and Lommen Abdo. We are happy to work with you to find a mutually beneficial alternative billing method when possible. There are a number of options we can consider. 
How do I contact you?
Do you have a legal question? Contact us today. We are here to help you!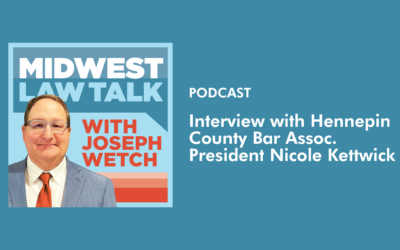 In this episode of Midwest Law Talk with Joseph Wetch, Nicole Kettwick, President of the Hennepin County Bar Association (HCBA), is interviewed. Nicole, a criminal defense attorney, shares insights into her journey in law and her role as HCBA President. Nicole...
Do you have a legal question? Contact us today. We are here to help you!