Real Estate Law Minnesota + Wisconsin
The Real Estate team at Lommen Abdo has dedicated attorneys with vast experience who focus on property rights and are committed to the best outcome for our clients. When you need someone to fight for your rights related to a real estate or title issue, or someone to help you get a deal done, contact Lommen Abdo. 
MN + WI Real Estate Lawyers
Our Real Estate group offers significant experience in the purchase and sale and/or financing and leasing of commercial real estate properties including shopping centers, office buildings, medical buildings, office/warehouse, industrial and other developments. We tailor our legal services to the specific real estate needs the client presents. Our goal is to deliver efficient, cost effective and practical solutions to our clients' real estate problems. 
Our areas of focus include: 
Real estate transactions

 

Purchases, sales and financing

 

Lease negotiation and drafting 

 

Municipal approvals

 

Permanent loans, construction loans, loan modifications and workouts

 

Tax increment financing

 

Real estate litigation

 

Leasing and contract disputes, mortgage foreclosures, cancellation of contact for deed proceedings, and landlord/tenant disputes

 

Real property tax disputes

 

Zoning and land use disputes

 

Eminent domain

 

Partnerships and limited liability companies

 

Corporate merger and acquisition work

 

Boundary law

 

Mortgage foreclosure and mortgage loan workout

 
Lommen Abdo's Real Estate group is anchored by Bob Abdo in Minnesota and Brent Johnson in Wisconsin.  
Comprehensive Legal Services in Minnesota and Wisconsin Real Estate Matters
Commercial – Purchase and Lease
If you're looking to purchase commercial property, we can help protect you from future liability – such as preexisting environmental hazards – which could become your responsibility once you own the property. If you're looking to lease a commercial property, let one of our experienced attorneys look over the lease before you sign. We can help ensure you are protected from extra fees, losing your deposit, not having the ability to hang signage where you would like and a host of other potential pitfalls. 
Property Tax Appeals
In the real estate world, property taxes are generally the largest expense for commercial property owners, landlords and even investors. Any of these groups, property owners and tenants have the right to appeal their property taxes and we can help. 
We find the most common issues to be disagreement over the estimated fair market value of the property and ensuring the correct classification of the property. Lommen Abdo has worked with many clients who have appealed their property taxes and won, reducing their tax obligations significantly. 
Real Estate and Title Litigation
We speak the language of real estate and title insurance. 
Our attorneys know real estate and title insurance law.  When litigation becomes necessary, our experienced trial attorneys will be your advocates in any type of related dispute. Our real estate and title insurance litigation team is headed by Keith Broady and includes Mike Moline, Reid Lindquist, Jamie Johnson, Brent Johnson, and Josh Feneis.  We practice before the Minnesota and Wisconsin state and federal courts, both trial and appellate, as well as administrative hearings, arbitration, and mediation. Our clients include developers, investors, lenders, owners, commercial tenants, purchasers and sellers, lessors, lessees and title insurers. 
Areas of focus:
Disputes arising out of purchase agreements or options

 

Commercial, industrial, and retail lease disputes

 

Builder/developer disputes

 

Zoning and land use disputes

 

Property insurance coverage disputes, including title insurance

 

Bankruptcy disputes

 

Mechanic's and other liens

 

Adverse possession, encroachment, and trespass claims

 

Eminent domain/taking actions

 

Water rights

 

Easement, boundary and title disputes

 

Claims for injury to real property

 

Construction litigation

 

Title defect litigation

 

Title conveyance issues

 

Easement and access disputes

 

Surveys and boundary disputes

 

Quiet title actions

 

Restrictive covenants

 

Professional liability and agent error and omissions

 

Validity and priority of liens

 

Real property tax appeals

 

Real estate lending

 

Mortgage foreclosure

 

Loan workouts

 
What are some of the most important legal issues that arise during real estate transactions?

 



How do you
assist
clients in the agricultural industry with real estate transactions?
What are common reasons for real estate disputes?
How do I reduce the risk of litigation in real estate transactions from the buyer's perspective?

 



How do I reduce the risk of litigation in real estate transactions from the seller's perspective?

 



How does someone choose the "right lawyer" to handle a construction or real estate dispute?
"Top of the list for go-to Real Estate work."
"
Lommen Abdo has phenomenal
expertise
in Real Estate Law with a
'
get it done
'
attitude while still
maintaining
their fiduciary obligations to their client.
"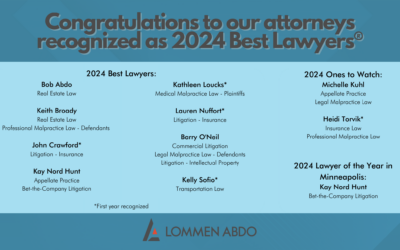 We are thrilled to announce the outstanding Lommen Abdo attorneys who have earned the prestigious recognition of being named in the 2024 Edition of Best Lawyers. These accomplished legal professionals have demonstrated unwavering dedication, exceptional skills, and a...
Do you have a legal question? Contact us today. We are here to help you!