Professional Liability Law Minnesota + Wisconsin
The Professional Liability team at Lommen Abdo understands that advising your customers and clients comes with risks – both to your reputation and your bottom line. Our experienced, ethical team will help you mitigate your exposure and produce positive results throughout this challenging process. 
Professional Liability Attorneys in Minnesota and Wisconsin
Experience. When it comes to defending legal malpractice lawsuits, accounting malpractice claims or ethics complaints, Lommen Abdo's experience in the upper Midwest is unsurpassed. For over 40 years, Lommen has aggressively represented its professional liability clients, including attorneys, accountants, medical providers, hospitals, insurance agents and other professionals in Minnesota and Wisconsin in the following matters: 
Professional negligence disputes

 

Legal malpractice litigation

 

Accounting malpractice actions

 

Breach of fiduciary duty claims

 

Ethics and disciplinary investigations and proceedings

 

Directors and officers liability claims

 

Professional licensing disputes

 

Insurance coverage disputes

 
Professional Liability Attorneys You Can Trust
Lommen Abdo is adept at representing professional liability clients in various forums, including trials, appeals, ethics investigations, disciplinary proceedings and arbitrations. Professional liability clients and experts speak highly of our professional liability skills: 
Lommen Abdo attorneys have the ability to cut to the heart of the legal malpractice case, resulting in precise, creative and effective resolution strategies. They "get it," whereas many in this field simply don't. They are a huge asset in the defense of lawyers nationwide.

 

Very few firms aside from Lommen Abdo have such an excellent command of this area of the law.

 

Lommen Abdo is one of the best. Very creative problem solvers.

 

Lommen Abdo is a tremendous firm for handling legal malpractice defense. The lawyers get great results at a fair price. They have an unmatched knowledge in the field.

 

Lommen Abdo is extremely knowledgeable and effective in defending legal malpractice cases.

 

Lommen Abdo Law Firm is an outstanding law firm for the defense of legal malpractice actions.

 

Lommen Abdo Law Firm is an excellent professional liability defense firm. They can handle extremely complex matters and do a fine job on complex coverage issues.

 
Lommen Abdo's professional liability team is anchored by Barry O'Neil, who is certified as a civil trial specialist by the Minnesota State Bar Association. Kathleen Loucks is also certified as civil trial specialists by the Minnesota State Bar Association. Mike Moline is certified as a civil trial advocate by the National Board of Trial Attorneys and as a civil trial specialist by the Minnesota State Bar Association. 
Additionally, many of Lommen Abdo's professional liability attorneys have been recognized as Minnesota Super Lawyers or Rising Stars, including Keith Broady, Barry O'Neil, Mike Moline, Lauren Nuffort and Kay Nord Hunt, who is the chair of Lommen Abdo's Appellate and Insurance Coverage Section, and who lends her appellate experience to professional liability and ethics matters. 
Minnesota + Wisconsin Professional Liability
Accounting Malpractice
We understand that accountants are subject to constantly evolving rules and regulations, and we're here to give you the  understanding needed to strengthen your accounting business with confidence. Whether you're dealing with claims from state regulators or the SEC, navigating subpoenas over audit work, or even facing allegations of misreporting or misallocating funds, we're here to help you. 
Design Professionals (Architects and Engineers)
Claims against architects and engineers are growing at alarming rates and our knowledgeable, proactive team can help you head off concerns early, quickly, and cost-effectively. The Lommen Abdo team can jump in at any point in the process, from contract negotiations and interpretations to litigation, arbitration, and appeals.  
Ethics + Licensure
More and more industries in today's world involve advising clients and customers, meaning professionals are increasingly taking on the risk of being challenged by those who hire them if things take a turn. Our talented professional liability team can work across multiple professions to defend individuals, small businesses, and corporations from when work doesn't go as planned. 
Legal Malpractice
One of the fastest growing areas of need within professional liability practices is representing other lawyers and legal professionals. Our trusted team will dig into the initial case, as well as the malpractice claim, in an effort to reach a quick and successful resolutions. Hoping to prevent a claim in the first place? We can work with you to assess the risks and ethics surrounding specific cases, clients, or situations. 
Medical Malpractice 
Medical Malpractice claims no longer affect only certain specialties, and every medical professional needs to be prepared for the potential of a malpractice claim at any time. We understand that even the best doctors have their judgment questioned, and we also know how important your reputation is to the success of your practice. Our team can examine and assist you in reworking your practice to help find and eliminate potential issues before they arise.  
If a malpractice claim does surface, our team has extensive experience defending medical professionals from many fields, from nurses to dentists and pediatrics to psychiatrists. Our team can help at all points of the defense process, including representing you in front of professional boards or at potential disciplinary hearings. 
Professional Liability Videos
What tips do you have to avoid a professional liability complaint?

 



What should the client expect from their attorney during professional liability litigation?

 



What is a rewarding aspect in your practice as a professional liability defense attorney?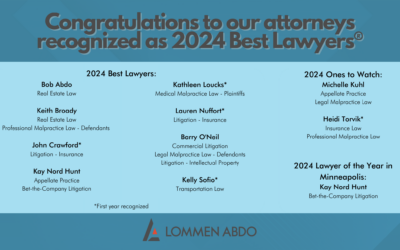 We are thrilled to announce the outstanding Lommen Abdo attorneys who have earned the prestigious recognition of being named in the 2024 Edition of Best Lawyers. These accomplished legal professionals have demonstrated unwavering dedication, exceptional skills, and a...
Do you have a legal question? Contact us today. We are here to help you!