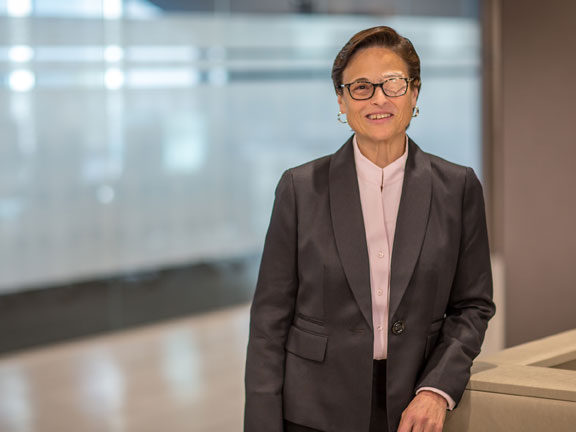 Deborah C. Swenson
Areas of Practice: Bankruptcy Litigation, Commercial Bankruptcy – Creditors, Commercial Litigation, Professional Liability
Office Location: Minneapolis, Minnesota
Phone: 612.336.9352 / Email: dswenson@lommen.com
Deborah C. Swenson / Biography
As a shareholder at Lommen Abdo, Deb Swenson provides clients with practical, cost effective legal advice in the area of commercial bankruptcy and commercial litigation. In bankruptcy matters, she assists clients who have customers that have filed bankruptcy matters no matter where they arise in the United States. Her philosophy is based upon the belief that clients shouldn't have to pay the cost to reinvent the wheel to repeatedly educate attorney after attorney about a legal issue that is common to their business. Instead, she uses her knowledge of her clients' businesses to work as a team with a specially chosen local counsel to bring about positive results without the high cost of travel. Her practice is unique as over the last 20 years she has developed relationships with counsel in all 50 states, enabling her to provide clients with a one-stop process to have their commercial bankruptcy and commercial litigation matters handled efficiently and effectively.
She enjoys providing these services to clients across the country. Current clients include Fortune 500 companies in the transportation, staffing and services industries. She has also worked on appellate matters in the Minnesota Court of Appeals, the Minnesota Supreme Court and the Eighth Circuit Court of Appeals.
Of special interest to her is the defense of avoidance actions, including preference and fraudulent transfers. During her long legal practice she has defended corporations in hundreds of avoidance actions in over 40 jurisdictions.
Deb has also worked to protect her clients' interests in bankruptcy through an active motion practice, including relief from the automatic stay and other motions in the bankruptcy courts throughout the United States. She has also served as a liquidating trustee in a Minnesota Chapter 11 liquidation case involving former franchisee.
Deb is rated AV Preeminent® for the highest level of professional excellence by Martindale-Hubbell.
Leadership + Activities
American Bankruptcy Institute
American Bar Association
Minnesota State Bar Association
Dakota County Bar Association
Guide Dogs for the Blind Alumni Association
American Council of the Blind
Feedback
Deb is very knowledgeable and a player in the bankruptcy market in the Midwest.
Deb is an excellent attorney and good source of referrals.
I give Deb excellent marks across the board without any hesitation. She practices law at the highest standards, and her legal expertise and ethical standards are at an AV level without question.
One of the best lawyers I have ever dealt with.
Deborah is incredibly knowledgeable and diligent. I hold her in the highest regard as a person and a lawyer.
Lommen Abdo is probably the most efficient and honest law firm I have dealt with in years. They have no hidden agenda; they are just a very fine firm. Deborah Swenson is extremely knowledgeable and has a wealth of experience.
Presentations
"Avoidance Claims 101: Common Chapter 5 Claims and The Uniform Voidable Transactions Act," 2015 Bankruptcy Institute, Minneapolis, Minnesota, October 2015
"Advanced Preference Defenses," Bankruptcy/Debtor-Creditor Webcast Series, Minnesota CLE, January 2012
"Preference Prosecution and Defense Boot Camp," Freeborn & Peters, Chicago, Illinois, September 2011
"Advanced Preference Defenses," The 2011 Bankruptcy Institute, Minneapolis, Minnesota, September 2011
"Common Problems for Transportation Creditors in Bankruptcy and Commercial Litigation," National Transportation Credit Association, St. Petersburg, Florida, February 2006
"The Effect of Revisions to the Bankruptcy Code on Trade Creditors," National Truck, Trailer and Fuel Credit Association, Orlando, Florida, October 2005
Published Articles
"How to Dodge Financial Pain When Others File,"

Upsize Minnesota Magazine

, April/May 2010
Education
Stanford Law School, J.D., 1995
University of Minnesota, B.A., summa cum laude, 1992
Bar Admissions
Minnesota, 1995
U.S. District Court, District of Minnesota, 1996
U.S. Court of Appeals, Eighth Circuit, 2012
Deb Swenson spoke at the 2015 Minnesota Bankruptcy Institute on October 9, 2015 and presented by Minnesota CLE. Deb spoke with a panel on "Avoidance Claims 101: Common Chapter 5 Claims and The Uniform Voidable Transactions Act." Panel description: This panel of...