Experienced Milwaukee, Wisconsin Attorneys
Lommen Abdo's attorneys are committed to providing excellent service to the community of Milwaukee, Wisconsin. Our premier firm is dedicated to providing exceptional legal services to individuals, businesses, and organizations in the area. Our team of experienced attorneys is committed to delivering personalized and effective legal solutions to meet your unique needs. From complex litigation cases to specialized areas of law, we have the knowledge and expertise to guide you through the legal process with confidence and success. 
Milwaukee Appeals & Appellate Lawyer
Navigating an appeal requires a complex understanding of the law and persuasive advocacy skills. Our seasoned appeals and appellate lawyers in Milwaukee are well-versed in handling complex appellate cases. Whether you need to challenge a court decision or defend an appeal, we are committed to providing the highest level of representation to protect your rights and achieve favorable outcomes. 
Business + Corporate Lawyers in Milwaukee 
Our business and corporate lawyers in Milwaukee are dedicated to helping businesses of all sizes navigate the complexities of corporate law. Whether you need assistance with business formation, contracts, mergers and acquisitions, or resolving disputes, we have the expertise to safeguard your interests and ensure your business thrives. 
Milwaukee Catastrophic Injury Lawyer
Suffering a catastrophic injury can have long-lasting consequences. Our compassionate catastrophic injury lawyers in Milwaukee understand the physical, emotional, and financial toll these injuries can take. We are committed to fighting for your rights and securing the compensation you need to move forward with your life. 
Construction Lawyers in Milwaukee
The construction industry comes with its unique set of challenges and legal complexities. Our construction lawyers in Milwaukee offer comprehensive legal guidance to contractors, developers, and property owners. From contract negotiation to dispute resolution, we will protect your interests and ensure your construction projects run smoothly. 
Milwaukee Employment Law Attorneys
Our dedicated employment law attorneys in Milwaukee are committed to protecting the rights of both employees and employers. Whether you need assistance with workplace discrimination, wage disputes, or employment contracts, we will provide expert advice and fierce advocacy on your behalf. 
Estate + Trust Lawyer in Milwaukee 
When it comes time to plan for the future, our estate and trust lawyers in Milwaukee are here to help you preserve and protect your assets. We provide comprehensive estate planning services, including wills, trusts, and probate administration, ensuring your wishes are honored and your loved ones are taken care of. 
Milwaukee Family Law Attorneys
Family law matters can be emotionally charged and complex. Our family law attorneys in Milwaukee approach each case with empathy and sensitivity. Whether you are going through a divorce, seeking child custody, or addressing domestic violence issues, we will fight for your best interests and those of your family. 
Litigation Lawyer in Milwaukee
When disputes escalate to litigation in Milwaukee, our experienced litigation lawyers are ready to advocate on your behalf. We have a proven track record of success in handling a wide range of civil litigation cases and will craft a strategic approach to achieve the best possible outcome for your case. 
Milwaukee Medical Malpractice Lawyer
Medical malpractice cases require a deep understanding of both medical and legal principles. Our medical malpractice lawyers in Milwaukee have the expertise and resources to handle complex cases involving medical negligence. We will fight for your rights and seek the compensation you deserve for any harm caused by medical errors. 
Professional Liability Attorneys in Milwaukee
Our professional liability attorneys in Milwaukee are dedicated to protecting professionals facing liability claims or allegations of professional misconduct. Whether you are a healthcare provider, attorney, architect, or other professional, we will vigorously defend your reputation and safeguard your career. 
Milwaukee Real Estate Lawyers
Real estate transactions and disputes can be intricate and demanding. Our real estate lawyers in Milwaukee have extensive experience handling a wide range of real estate matters. From property acquisitions and sales to zoning issues and development, we will guide you through the process with expertise and attention to detail. 
Vaccine Law Attorneys in Milwaukee
In an ever-evolving field of vaccine law, our vaccine law attorneys in Milwaukee are at the forefront. We provide legal representation and advocacy for individuals and families affected by vaccine injuries or adverse reactions. Our goal is to ensure you understand your rights and receive the support you need. 
Milwaukee Electronic Litigator Services
In the digital age, electronic litigation plays an increasingly significant role. The Electronic Litigator services offered by Lommen Abdo are designed to assist clients and their attorneys in navigating the complexities of electronic discovery, data privacy, and cybersecurity issues. It helps manage electronic evidence, ensure compliance with relevant regulations, and protect sensitive information during the litigation process. 
Certified Specialist Attorneys in Milwaukee
At Lommen Abdo, we are proud to have certified specialist attorneys in various practice areas. Our certified specialists in Milwaukee have undergone rigorous evaluation and testing to demonstrate their expertise and qualifications in their respective fields. When you work with our certified specialists, you can have confidence in their deep knowledge and skill in handling your legal matter. 
Contact Our Experienced Attorneys
Choosing Lommen Abdo as your legal partner in Milwaukee means choosing a law firm that is dedicated to your success and prioritizes your needs. Our team of experienced attorneys brings a wealth of knowledge and expertise to each case, ensuring that you receive personalized and effective legal solutions. We value the trust our clients place in us and strive to exceed expectations with our commitment to excellence, integrity, and professionalism. 
Whether you are facing a legal dispute, planning for the future, or seeking legal advice for your business, Lommen Abdo is here to guide you through the process with confidence and success. Contact us today to experience the exceptional representation, and let us help you find the solutions you need for all your legal needs in Milwaukee and beyond. 
Do you have a legal question? Contact us today. We are here to help you!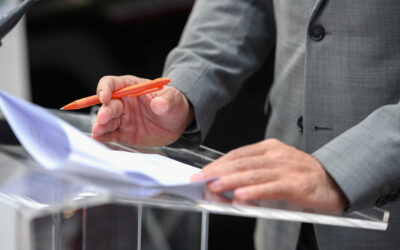 In the legal realm, summary judgment is a crucial procedural tool that allows parties to seek a prompt resolution of a case without going through a full trial. Prevailing on summary judgment is much less costly than proceeding through trial. To succeed in obtaining a...