Cameron Kelly, a Stillwater attorney practicing in the areas of estate planning, business law and real estate, joined Lommen Abdo May 15th. Cameron is a certified real estate specialist and is on the 2017 list of Minnesota Rising Stars as published by Super Lawyers.  He focuses his practice in the areas of estate and business succession planning and is getting his LLM in estate planning this year from The John Marshall Law School. Cameron will primarily be working out of our Hudson office, while keeping a presence in Stillwater, but will also spend time in the Minneapolis office.  Cameron is admitted in Minnesota, but is also in the process of obtaining his Wisconsin license.
Jesse Beier works with Minnesota and Wisconsin clients to create estate and business succession plans that help them achieve their goals. Jesse is dedicated to helping individuals, families and businesses prepare for the future through the development of tailor-made plans focused on tax planning, asset protection, probate avoidance and incapacity planning. Jesse enjoys the personal aspects of the estate planning field, giving clients the comfort of knowing that they have ensured the security of the things that matter most in life. He understands that each client's situation differs from the next and he strives to provide highly individualized services.
Jesse and Cameron (shown left to right above) will team up to provide the full array of estate planning, probate, estate administration and business succession services to our clients.
Contact Cameron Kelly at 715.381.7112/ckelly@lommen.com or Jesse Beier at 612.336.9339/jbeier@lommen.com with any estate planning or business succession issues you may have. The firm can also assist if disputes arise in implementing an estate plan or business succession plan.  You can contact either Cameron or Jesse and they'll connect you with the right litigator.  Or you can contact a litigator directly:  Keith Broady at 612.336.9346/kbroady@lommen.com, Barry O'Neil at 612.336.9342/barry@lommen.com or James Johnson at 715.381.7105/jamesj@lommen.com.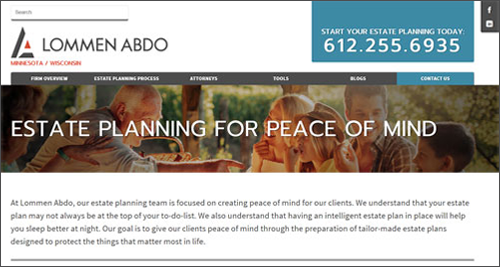 Are you looking for more information about estate planning? Take a moment to check out Lommen Abdo's revamped estate planning web site, minnesotaestateplanningattorney.com. You'll find tools such as checklists and questionnaires, as well as blogs on many topics, including "Do I really need an estate plan? Three questions to ask yourself" and "Minnesota Estate Tax Legislative Update." Visit the site often as new blogs on a wide variety of estate planning issues are added regularly.