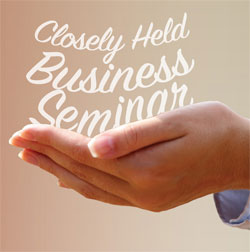 Lommen Abdo presents a closely held business seminar on Thursday, October 27, 2011.
Learn how to maximize your opportunities and navigate the inherent obstacles.
Gain valuable and practical insight into how to:
Avoid legal disputes, including avoiding personal liability;
Create effective buy-sell agreements;
Prepare for succession and exit planning; and
Address shareholder disputes and business divorces.
Hear what accountants and bankers have to say about the business landscape today as they share the success and horror stories they see.
Plus receive checklists to utlize in your own business including: things you must do to sell a business; typical bank covenants to watch for and what they mean; what you need to get a line of credit; choosing the form of an entity, types of entities and their hallmarks; what should go into your financial statement; business diagnostics; and busines assessment of tangible and intangible assets.
Presenters:
Tom Dougherty and Dan Young, attorneys from Lommen Abdo Law Firm
Bill Belvedere from Schechter Dokken Kanter; Jim Witt from Barton Walter & Krier, LLC; and John Thorvilson from Moquist Thorvilson Kaufmann Kennedy & Pieper LLC — Accountants
Erick Reim, Vice president/loan committee member from Alliance Bank
Thursday, October 27th
Program runs: 3:00 to 5:00 p.m.
Registration, food and beverages: 2:30 to 3:00 p.m.
Cost is two hours of your time.  (No admission fee.)
Location:
Elsie's Restaurant, Bar & Bowling Center
(A family owned business venue in northeast Minneapolis!)
729 Marshall Street NE, Minneapolis, Minnesota 55413
To register for the October 27th seminar, email your name, business name and phone number to Brad Wicklund at brad@lommen.com or call him at 612.336.9325.