Veteran trial lawyer and commercial litigator, Kathleen Loucks, joins Lommen Abdo's Litigation team after seven years at Hellmuth & Johnson. She started her career in the courtroom, cutting her teeth in criminal court as a prosecutor. Kathleen spent the last seven years at Hellmuth, building a solid reputation as a skilled and tough, yet fair-minded, legal advocate and negotiator, and an attorney with character and integrity. In her 15 year career, Kathleen has championed individuals and businesses in state and federal courts throughout the region, including general contractors in construction defect cases; individuals in insurance coverage disputes; and plaintiffs and defendants in general litigation matters. She also provides general risk management and legal counsel to individuals and corporations.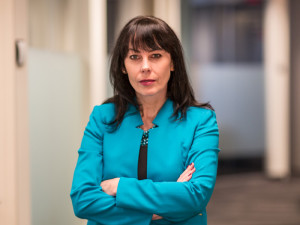 "I have significant experience on both the defense and plaintiff side of simple and complex litigation all the way through jury verdict," says Kathleen. "This insight enables me to make wise choices about when to be collaborative with opposing counsel, and when to be a strong advocate for my clients. My clients want more than a one-size-fits-all approach to their case, they deserve a seasoned and wisdom-driven advocate with a full spectrum of tools, who will talk with them candidly and straightforwardly about their options, and who will choose the best tools available to serve their interests. That's how I practice and that's what I'm committed to delivering to every client I have the privilege of serving."
Prior to Hellmuth & Johnson, Kathleen practiced with Gislason & Hunter for over seven years, representing doctors, nurses and hospitals in medical malpractice actions in state, federal and appellate courts; representing doctors and nurses in state board licensure actions; representing insurance companies in coverage disputes and declaratory judgment actions in state, federal and appellate courts; representing general contractors and subcontractors in construction defect litigation; and representing plaintiffs and defendants in general litigation matters. Her litigation experience includes jury and court trials, as well as arbitrations and mediations.
Kathleen's practice will now have the added support of Lommen Abdo's 34 attorneys located in three offices: Minneapolis, Hudson and New York City. Lommen Abdo has attorneys in a variety of other practice areas including business, employment, real estate, family law, estate planning, personal injury, vaccine injury, appellate advocacy, intellectual property, entertainment and more. If you have a need outside of Kathleen's expertise, she can connect you to the right person to handle your matter. Lommen Abdo attorneys' best credentials are our clients' successes, but our lawyers are also recognized by their peers: 19 are AV-rated by Martindale-Hubbell, five have been selected for inclusion in The Best Lawyers in America®, 12 are included in the Super Lawyers list and many have obtained certifications in trial practice and real estate.