Each year, Minnesota Lawyer, an independent newspaper dedicated to providing court opinions, verdicts, settlements, appellate decisions, and legal news to enhance the practice of law, recognizes the best achievements in the Minnesota legal profession with the Attorneys of the Year awards. Kay Nord Hunt, chair of Lommen Abdo's appellate practice, is being recognized as a 2013 Attorney of the Year.
The Attorneys of the Year were chosen based on their leadership, involvement in major cases or other newsworthy events, excellence in corporate or transactional services and public service. Nominations are submitted by judges, bar groups, clients and fellow attorneys. The honorees come from diverse practice groups including criminal law, litigation, public service, intellectual property and in-house legal departments. An awards program will be held on February 20th.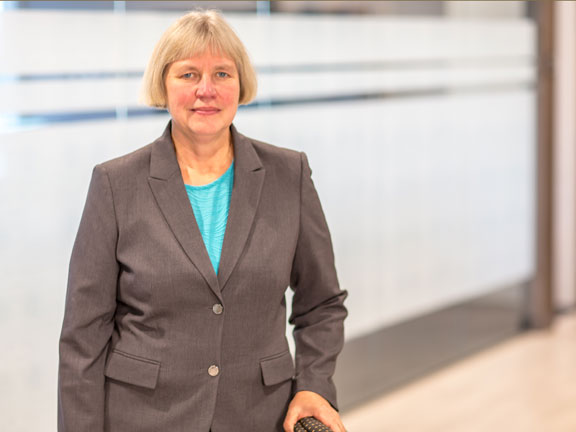 Ms. Hunt is an appellate advocate with 2013 successes in such diverse areas as construction litigation (Engineering & Construction Innovations, Inc. v. L.H. Bolduc Co., Inc., 825 N.W.2d 695 (Minn. 2013)), the valuation of S corporation assets for spousal maintenance (Haefele v. Haefele, 837 N.W.2d 703 (Minn. 2013)) and loss of a chance in medical malpractice (Dickhoff v. Green, 836 N.W.2d 321 (Minn. 2013)). As Lommen Abdo is a broad-based litigation firm, Ms. Hunt has handled appeals in virtually every area of civil law. Because of her appellate expertise, she also regularly associates with other law firms to assist them with their appeals.
Her appellate experience comes from having handled more than 600 appeals to the Minnesota and Wisconsin appellate courts, the Seventh and Eighth Circuit Courts of Appeal, other specialty courts and other courts around the nation where she appears pro hac vice. Ms. Hunt represents clients in disputes involving trusts, liens, insurance, employment, contracts, professional liability, family law, medical malpractice and many other areas. She works closely with trial lawyers and handles temporary injunctions, certification matters and other complex hearings; she prepares or responds to motions to exclude expert testimony, motions for summary judgment and other dispositive motions, motions seeking sanctions and post-trial motions; she monitors trials to preserve issues on appeal; she prepares trial briefs; she handles mandamus or interlocutory appeals; and she presents oral arguments at all court levels.
Ms. Hunt is a member of the American Academy of Appellate Lawyers (an invitation-only organization), is among the Best Lawyers in America®, was named the "Minneapolis Best Lawyers Appellate Practice Lawyer of the Year" for 2012, is in the lists of Top 100 Minnesota Super Lawyers and Top 50 Minnesota Women Super Lawyers and is included in the Super Lawyers list in the area of appellate advocacy. Ms. Hunt's appellate practice has ranked as Tier 1 (top ranking) in the Minneapolis region for the past several years, including this year, and also ranked nationally by U.S. News-Best Lawyers. She is also an adjunct professor at the University of St. Thomas School of Law and she handles pro bono appeals and presents appellate seminars for legal aid attorneys. Ms. Hunt was appointed by the Minnesota Supreme Court to serve on the Supreme Court Advisory Committee on the Rules of Civil Appellate Procedure. She is AV rated by Martindale-Hubbell.
Gustavus Adolphus College presented Kay Nord Hunt with its Distinguished Alumni Citation in 2013. This award has been given annually since 1955 and recipients include Supreme Court Justices J.R. Magney and G. Barry Anderson, Governor Harold LeVander; Artist Paul Granlund and many others in business, education, medicine, religion, government and other disciplines. Ms. Hunt is only the 11th person in the area of law to receive the award in its 58 year history. Read more.
You can listen to Kay Nord Hunt describe her appellate practice here.
Read the Minnesota Lawyer profile on the award.