Kay Nord Hunt was presented with the Gustavus Adolphus Distinguished Alumni Citation on June 1st. This award has been given annually since 1955 and recipients include Supreme Court Justices J.R. Magney and G. Barry Anderson, Governor Harold LeVander; Artist Paul Granlund and many others in business, education, medicine, religion, government and other disciplines. Ms. Hunt is only the 11th person in the area of law to receive the award in its 58 year history.
The Gustavus Adolphus College Alumni Association awards two major awards each year, the Distinguished Alumni Citation and the First Decade Award. The Distinguished Alumni Citation recognizes "outstanding and exceptional professional achievement, such as to bring unusual honor to the individual in his or her field of endeavor." Selection criteria include the difficulty of accomplishment; quality, creativity, and distinctiveness of performance; recognition by professional peers; and lasting contribution to the world of ideas and affairs.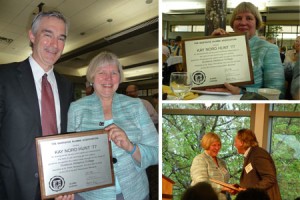 Barry O'Neil, shareholder and colleague of Ms. Hunt at Lommen Abdo and a fellow Gustie, presented Ms. Hunt for the Citation at the alumni dinner, saying
"I have had the great fortune to be working with Kay from the time that she hired me as a law clerk in my second year of law school in 1990. In the 20-plus years that I have known her, I have been repeatedly amazed by the breadth of her legal insight and her peerless expertise in handling appeals for her clients. Whether her client is a multi-national corporation or an individual who has hired her to handle an appeal of an unfair visitation decision in a family court matter in rural Minnesota, Kay's commitment to her clients and the highest standards of law practice and ethics are a constant.
Through her tireless efforts on behalf of her clients, Kay has had a significant influence on virtually all areas of Minnesota law. Just yesterday, Kay's efforts resulted in a decision in which the Minnesota Supreme Court for the first time recognized a claim for a "loss of chance" on behalf of a family whose daughter was stricken with cancer. Kay's impact on Minnesota law and the lives of all the citizens of Minnesota will be felt long past the time that she stops practicing law."
A full list of the Distinguished Alumni can be found at https://gustavus.edu/alumni/awards/distinguishedalumni.php.