Larry Rocheford and Brent Tunis have brought their litigation practices to Lommen Abdo this month, bringing new perspectives and increasing the firm's depth of talent. Scroll down to read more about Larry and Brent.
Larry Rocheford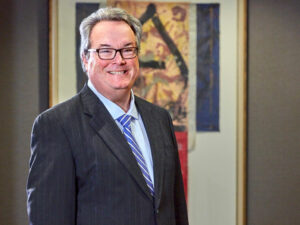 New Lommen Abdo shareholder Larry Rocheford adds more litigation power to the firm's trial team. Larry has successfully defended catastrophic injury and major cases, including products, mass shootings, construction, negligence, dram shop, motor vehicle and premises liability cases from start to trial. The damages sought in these cases have included compensation for severe burns, traumatic brain injuries, poly trauma, amputations, paralysis or partial paralysis, wrongful death and, in Wisconsin, survivor's loss damages. In the area of products liability, most of his cases arise from an accident involving a product, around equipment at a place of employment or worksite, or involve a construction project.
Larry has defended employers in negligent hiring, training and retention claims and defamation matters, shareholder control agreement cases, work-place violence and shootings. He has also defended and prosecuted contractual indemnity and declaratory judgment actions. Larry is frequently retained to offer opinions on issues and cases concerning insurance coverage, first party property insurance claims, business torts, employer liability and has tried insurance fraud cases.
For 25 years Larry has been a board certified civil trial advocate by the National Board of Trial Advocacy and is certified as a civil trial specialist by the Minnesota State Bar Association. Larry is rated AV Preeminent® for the highest level of professional excellence by Martindale-Hubbell, has repeatedly and currently been listed as a Minnesota Super Lawyer and was recognized in Minnesota Super Lawyers' 2010 Corporate Counsel edition in the area of general Civil Litigation Defense and Personal Injury Defense. He is an associate in the American Board of Trial Advocates (ABOTA).
"Larry Rocheford and Lommen Abdo are a great fit for each other!" Both are focused on litigation excellence for our clients. Larry brings added depth and experience to our already potent bench and we can provide strong attorney, staff and e-discovery support for his clients. We are very pleased to welcome Larry to the Lommen Abdo firm."
Margie Bodas, V.P. of Practice Management
"Working with experienced trial lawyers and an extensive support staff at Lommen Abdo is a perfect fit for a veteran lawyer like me. I can continue both my Minnesota and Wisconsin law practice here. Most importantly, Lommen's well established trial practice and my trial practice will support and flourish together. I look forward to using my extensive experience to continue my advocacy for clients as a Lommen Abdo lawyer."
Larry Rocheford, Lommen Abdo Attorney
Following law school, Larry worked for West Publishing as an editor of their monthly newsletter promoting computerized legal research. He worked for a long-standing east metro litigation firm from 1985 to 2019, where he held many leadership positions in the firm. In his free time, Larry enjoys traveling, golf, fishing, bird hunting, and spending time with his wife and two children.
Larry offices in our Minneapolis, Minnesota office and can be reached at 612.336.9351 or lrocheford@lommen.com or view his v-card and bio.
Brent Tunis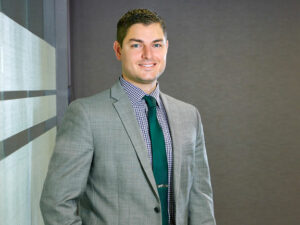 Brenton (Brent) Tunis concentrates his practice on insurance defense, personal injury, corporate litigation and appellate practice in Wisconsin, Minnesota and Iowa. He offices primarily in our Hudson, Wisconsin office.
He earned his B.B.A. in Finance from the University of Iowa in 2012, with distinction, and a minor in political science, also with distinction. He was a managing editor of the Indiana Law Journal and received several honors at law school. Brent played trumpet in the University of Iowa's premier Jazz ensemble, the Johnson County Landmark, while studying at Iowa, and received a scholarship for the study of Trumpet Performance.
Brent has been very involved in his communities including serving on the board of directors of the Rochester Symphony, serving as President of the Third District Bar Association, mentoring and being a big brother to the Boys and Girls Club and has been active in the Minnesota State Bar Association. Brent has been recognized as a North Star Lawyer by the Minnesota State Bar Association for providing pro bono legal services to low-income individuals.
"Brent Tunis is someone who jumps in with both feet to engage with clients and his community. We are impressed with his litigation foundation as well as his commitment to charitable work in his prior communities. Brent will not only be an asset to Lommen Abdo, but also an asset to our St. Croix Valley communities!"
Margie Bodas, V.P. of Practice Management
Brent and his dog, Izzy, have relocated from Rochester to Woodbury. Brent is an avid Iowa football fan and enjoys traveling to Iowa City for home games.
Brent can be reached at 715.381.7113 or btunis@lommen.com or view his v-card and bio.
About Lommen Abdo
Larry and Brent's practices will now have the added support of Lommen Abdo's 28 attorneys located in two offices: Minneapolis, Minnesota and Hudson, Wisconsin. Lommen Abdo practices in a variety of areas including business, shareholder disputes, employment, real estate, family law, vaccine injury, medical malpractice and wrongful death, transportation, appeals and more. Lommen Abdo attorneys' best credentials are our clients' successes, but our lawyers are also recognized by their peers: 14 are AV-rated by Martindale-Hubbell, five have been selected for inclusion in The Best Lawyers in America®, 11 are included in the Super Lawyers list and many have obtained certifications in trial practice and real estate. The firm has been serving clients for 80 years.