With great sadness, we announce the unexpected passing of one of our own, Larry Rocheford. Please keep Larry's family in your thoughts and prayers.
View his obituary and comments shared by his colleagues, friends and family:
As a friend and former associate and partner of Larry's, he was a kind and thoughtful mentor to me in both my work and personal life.  He is greatly missed.
Matthew P. Bandt, colleague at Jardine, Logan & O'Brien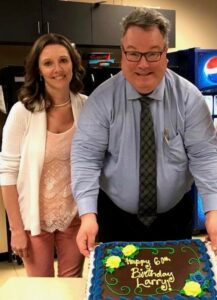 Larry and I worked side by since 2009; he was a dear friend to me and I couldn't have asked for a better boss.  He was full of wisdom, kindness and great advice.  He is deeply missed.
Michael Kittel, colleague at Lommen Abdo and Jardine, Logan & O'Brien
I have worked at Jardine, Logan & O'Brien for many years. I was never assigned to work directly with Larry, but while at JLO, he would oftentimes call me early in the morning when he needed information regarding a file. Most times it was when he was out of town. He always told me it was because I was in the office early and my number was the only one he remembered so I was the lucky one to help him.  He also frequently stopped by the candy dish at my desk and if there wasn't anything in there, he would pull out some money and ask if it was enough to get more candy for the dish.  I miss him and his quirks.
Gayle Wasmundt, colleague at Jardine, Logan & O'Brien
I feel so fortunate to have been able to work with and learn from Larry during his time at Lommen Abdo, which was much too short.  He was a wonderful person and an excellent defense lawyer.  He was committed to providing exceptional service to his clients and I am grateful to have been able to learn from him.  He is greatly missed.
Lauren E. Nuffort, colleague at Lommen Abdo
Larry attained his law degree at Hamline University School of Law in 1983. Following law school, he worked for West Publishing as an editor of their monthly newsletter promoting computerized legal research. He worked for a long-standing east metro litigation firm from 1985 to 2019, where he held many leadership positions in the firm. He joined Lommen Abdo Law Firm in 2019, focusing on defense litigation.
Larry was a board certified civil trial advocate by the National Board of Trial Advocacy for 25 years, was certified as a civil trial specialist by the Minnesota State Bar Association and was an associate in the American Board of Trial Advocates (ABOTA). Larry was rated AV Preeminent® by Martindale-Hubbell and was repeatedly listed as a Minnesota Super Lawyer.  He was appointed to a second three-year term by the Minnesota Supreme Court to the Rules of Evidence Advisory Committee and was previously a Supreme Court appointee to the Minnesota Rules of Civil Procedure Committee and served two terms as Minnesota Supreme Court Appointee to the Minnesota Board of Legal Certification Committee.
Larry enjoyed traveling, golf, fishing, bird hunting, and spending time with his wife and two children.