Collecting Toys This Holiday Season
The attorneys of Lommen Abdo have collected toys and raised funds for Toys for Tots since 2006, including this holiday season. Through the gift of a new toy, Toys for Tots hopes to bring the joy of Christmas and send a message of hope to children. Lommen Abdo has participated in this mission, through fundraising and toy collection, for 15 years (taking a year off during the pandemic in 2020).
Toy Drive Is Personal for Some
The origin of the toy drive began when Attorney Margie Bodas and her assistant, Jenny Olson, were talking about Toys for Tots and decided to start a Toys for Tots campaign at Lommen Abdo with the help of co-chair, Attorney Bryan Feldhaus. "When I was growing up, there were a couple of years where we wouldn't have had a Christmas without the help of the community," Jenny said. "I've been so happy to contribute my time, food, and toys to Lommen Abdo's Toys for Tots campaign over the years. It feels like I'm paying back the support we received when I was young."
Fundraising Can Be Fun!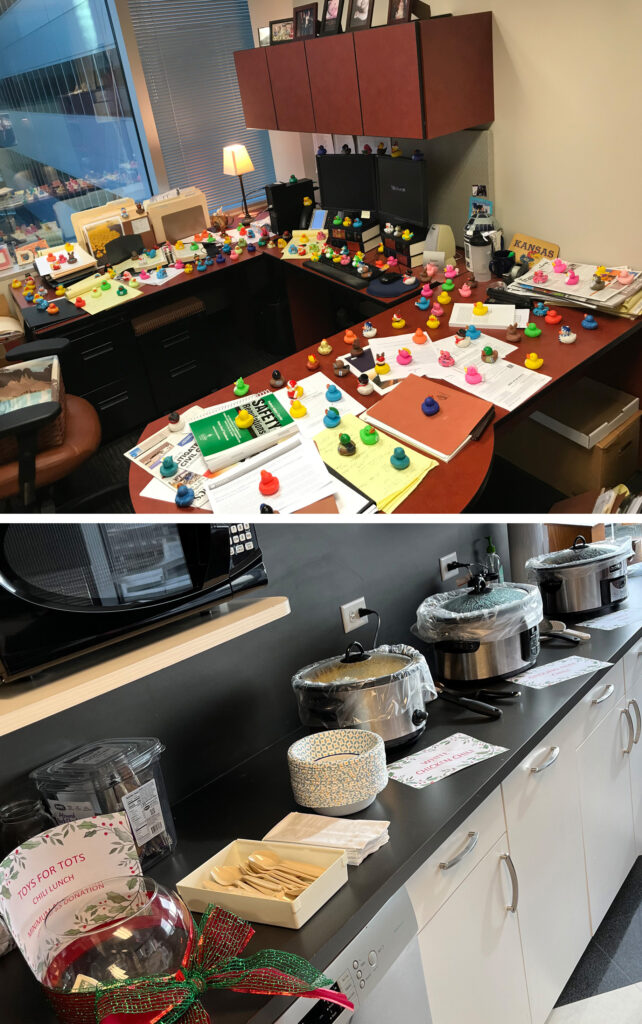 Since that first yearly drive, Lommen Abdo attorneys have collected a total of 1,197 toys and $8,765, including the 29 toys and $1,025 raised during this year's drive. Popular fundraising events have included penny wars, having Marines from Toys for Tots attend the firm's holiday party, "ducking" fellow employee offices (see picture), breakfasts and chili cook-offs. The entire firm of attorneys, paralegals, and administration staff participate, with a committee leading the festivities.
Lommen Abdo attorney and board member, Lauren Nuffort, says of the toy drive, "The Lommen Abdo Toys for Tots drive not only spreads cheer throughout our office, but it serves the bigger and more important mission of providing toys for families and children in our community who would otherwise go without during the holiday. I think I can say for everyone at Lommen Abdo that this is an enjoyed tradition and that we feel grateful we are able to provide a little help for families in our community this holiday."
A Tradition to Continue
Lommen Abdo plans to continue to support community organizations for the holidays in the years to come. To see how you can help support Lommen Abdo's next drive, contact us.