December 5, 2013
Mike Moline, a national construction litigator, and Mike Leonard, a former Seventh Circuit Court of Appeals law clerk, have joined Lommen Abdo.
Mike Moline handles Andersen Windows construction litigation throughout the country. Andersen is the country's largest manufacturer of residential windows and glass doors. He also represents the Science Museum in construction litigation matters. He has tried more than 50 jury trials and argued more than 500 binding arbitrations involving products ranging from industrial fasteners to electrical components, as well as construction defect claims and commercial disputes. He now concentrates on representing property owners in insurance coverage claims, manufacturers in product liability defense, and corporate clients in commercial litigation. Mike is admitted in Minnesota, Wisconsin and the District Courts of Minnesota and the Western District of Wisconsin.
Mike's recent results include:
Successfully represented a property owner before the Minnesota Court of Appeals in the leading case involving an appraiser's authority to determine total loss; argued before the Minnesota Supreme Court to affirm the Court of Appeals' ruling (decision pending)
Obtained a directed verdict in in a $20 million construction defect claim
Obtained a rare summary judgment on behalf of the plaintiff, finding unjust enrichment as a matter of law in a commercial boundary dispute
Obtained a $900,000 appraisal award on behalf of a developer following a first-party insurance claim for hail damage to a townhouse development
Successfully defended the world's largest manufacturer of discrete electrical components in a claim involving failed electronic electrical power meters; obtained defense verdict in a federal summary jury trial following a $3 million demand
Obtained defense verdict in a multimillion-dollar product liability/construction defect trial in Miami-Dade County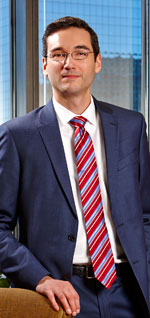 Mike Leonard is a new litigation associate. He graduated from the University of Chicago Law School in 2011. He was the Managing Editor of the University of Chicago Law Review, a member of the Student Animal Legal Defense Fund, member of the Intellectual Property Law Society, and winner of the Joseph Henry Beale Prize for Outstanding Legal Writing. He received his B.A. from Coe College in Cedar Rapids, Iowa, magna cum laude, in English and Philosophy. He clerked for the Seventh Circuit in Chicago from August 2011 to August 2013, researching and drafting bench memoranda, orders and opinions addressing complex criminal, civil and administrative issues for federal appellate judges and presenting draft orders to three-judge panels in monthly conferences and responding to questioning from judges during deliberations.
He was a summer law clerk in 2010 with the Animal Legal Defense Fund in Cotati, California, investigating and preparing a detailed report on an animal-hoarding situation in rural North Carolina, drafting public comment calling on U.S. Fish and Wildlife Service to suspend hunting of migratory bird species threatened by the Deepwater Horizon oil spill, participating in a dispute involving therapeutic companion animals and the Fair Housing Act and assisting with depositions and drafting memoranda analyzing legal issues. He was a legal intern for the Federal Defender Program in Chicago, conducting legal research and preparing memoranda on a range of issues, including trade secrets law, the entrapment defense, and the sentencing disparity for crack and powder cocaine offenses. He is admitted both in Minnesota and Illinois, as well as in the Seventh Circuit.
Lommen Abdo welcomes both Mike Moline and Mike Leonard to the firm.