Kathleen Loucks authored an article which appeared in the March 17, 2022 Minnesota Lawyer on COVID vaccines, "Why are COVID vaccine injuries treated differently?"
There are significant differences in the process and compensation for those injured from the COVID-19 vaccine versus other vaccines such as the seasonal flu. As it stands now, those injured by any of the COVID-19 vaccines must file their claim in the Countermeasure Injury Compensation Program (CICP).[1] Claimants have one year from the date they were administered the vaccine to file a claim.
Under the CICP, claimants are entitled to:
Out-of-pocket medical expenses (no limit).
Out-of-pocket wage loss (capped at $50,000 per year[2] with a lifetime cap at of $379,000).
In the case of death, a death benefit not to exceed $389,825.45.[3]
In contrast, other vaccines such as seasonal flu are covered in the Vaccine Injury Compensation Program (VICP).[4] Claimants have three years from the date of onset of injury to file a claim in the VICP.
VICP Compensation includes:
Out-of-pocket medical expenses (no limit).
Wage loss (no limit).
Pain and suffering (limited to $250,000).
In the case of death, a death benefit not to exceed $250,000.[5]
In order to file a claim for a COVID-19 vaccine injury, claimants must suffer death or "serious physical injuries" — that is, injuries that warrant hospitalization or lead to a significant loss of function or disability.[6] Similarly, the VICP requires claimants to have injuries that last for more than six months or require an in-patient hospitalization and surgery.[7]
Last, the CICP program for COVID-19 related claims is not a court but a regulatory process administered by HHS's Health Resources and Services Administration (HRSA). There are no public decisions available to review and there is no judicial appeal. In contrast, the VICP is administered through the Vaccine Court, part of the United States Court of Federal Claims in Washington, D.C. Cases are handled by Special Masters whose decisions can be appealed. Published decisions are available online.
Read the full article by Kathleen Loucks which appeared in the March 17, 2022 Minnesota Lawyer.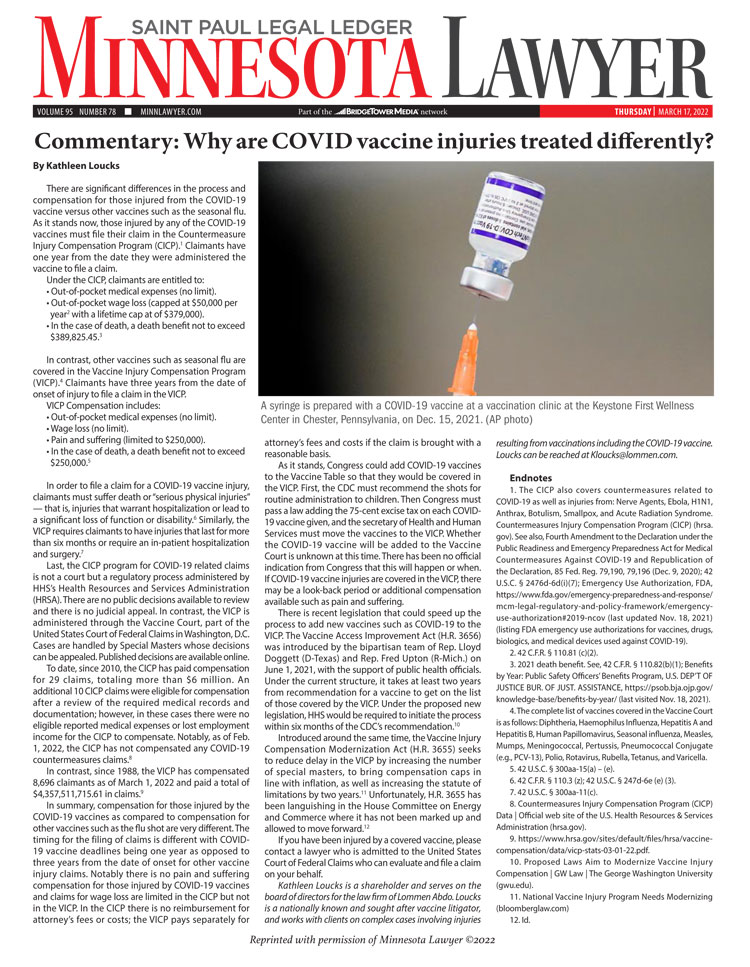 [1] The CICP also covers countermeasures related to COVID-19 as well as injuries from: Nerve Agents, Ebola, H1N1, Anthrax, Botulism, Smallpox, and Acute Radiation Syndrome. Countermeasures Injury Compensation Program (CICP) (hrsa.gov). See also, Fourth Amendment to the Declaration under the Public Readiness and Emergency Preparedness Act for Medical Countermeasures Against COVID-19 and Republication of the Declaration, 85 Fed. Reg. 79,190, 79,196 (Dec. 9, 2020); 42 U.S.C. § 2476d-6d(i)(7); Emergency Use Authorization, FDA, https://www.fda.gov/emergency-preparedness-and-response/mcm-legal-regulatory-and-policy-framework/emergency-use-authorization#2019-ncov (last updated Nov. 18, 2021) (listing FDA emergency use authorizations for vaccines, drugs, biologics, and medical devices used against COVID-19).
[2] 42 C.F.R. § 110.81 (c)(2).
[3] 2021 death benefit. See, 42 C.F.R. § 110.82(b)(1); Benefits by Year: Public Safety Officers' Benefits Program, U.S. DEP'T OF JUSTICE BUR. OF JUST. ASSISTANCE, https://psob.bja.ojp.gov/knowledge-base/benefits-by-year/ (last visited Nov. 18, 2021).
[4] The complete list of vaccines covered in the Vaccine Court is as follows: Diphtheria, Haemophilus Influenza, Hepatitis A and Hepatitis B, Human Papillomavirus, Seasonal influenza, Measles, Mumps, Meningococcal, Pertussis, Pneumococcal Conjugate (e.g., PCV-13), Polio, Rotavirus, Rubella, Tetanus, and Varicella.
[5] 42 U.S.C. § 300aa-15(a) – (e).
[6] 42 C.F.R. § 110.3 (z); 42 U.S.C. § 247d-6e (e) (3).
[7] 42 U.S.C. § 300aa-11(c).