Lommen Abdo Law Firm presents, in conjunction with South by Southwest (SXSW), Legal Issues in the Music, Film and Emerging Technology Industries. Over 25 industry leaders will fill 12 sessions addressing topics related to the current music, film and technology industries.  All SXSW registrants are welcome. Attorneys may register for up to 12.0 CLE credits.
Presented by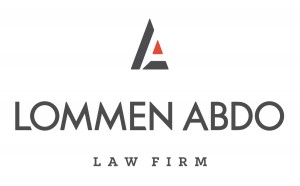 Nels Jacobson and Ken Abdo, Program Co-Chairs
Program Coordinator: Theresa Abdo Whelan
SCHEDULE
Interactive on Tuesday, March 17 (Room 9ABC, Austin Convention Center)
The Arc of Emerging Technology: Patents Predict It
11:00 a.m. to 12:00 p.m.
This session will look at how to use the patent as a tool for predicting the future. It will explore how our patent system really works. The concept behind the patent is simple: teach something new, get a limited monopoly in exchange. Many disparage the patent because of its sharp monopolistic teeth; few realize the patent also traces the arc of technology into the future, if you know how to look.
Cash, Credit, Bitcoin? The Law of Digital Currency
12:30 to 1:30 p.m.
Digital currencies present a host of complex legal, regulatory, and policy questions. Policymakers must prevent digital currencies from being used for money laundering and terrorist financing and to protect consumers from fraud – without stifling innovation. Further, the traditional regulatory framework is often wholly unsuited to the unique characteristics of digital currencies. This presentation will explain the issues that regulators and lawmakers are addressing, and discuss legal issues that businesses involved with digital currencies should consider and address.
Film on Tuesday, March 17 (Room 9ABC, Austin Convention Center)
Other People's Money: Investors and Crowdfunding
2:00 to 3:00 p.m.
Thousands of independent films are made each year. Most are financed at least partially with money from "other people." This is equity financing and it invokes securities laws with harsh penalties and confusing provisions. Filmmakers must tread carefully to avoid legal problems. And now the JOBS Act offers filmmakers powerful equity financing tools in the form of investor Crowdfunding. Learn how to use equity financing to fund your film, how to structure your financing in coordination with other forms of financing, how to communicate with potential investors, and how to avoid legal problems.
Intellectual Property in Film and Interactive Media
3:30 to 4:30 p.m.
The diversity and urgency of intellectual property issues facing those creating and using content in film and interactive media make each day unpredictable and challenging. This session will examine current trends and issues related to branded entertainment, product placement, ownership of celebrity related content, issues facing individuals with online and media followings who are trying to connect with brands to monetize their status, and the democratization of interactive, creative media content. (Akin Gump Strauss Hauer & Feld supported panel.)
Music on Friday, March 20 (Room 9BC, Austin Convention Center)
Music Law Ethics in Motion
11:00 a.m. to 12:00 p.m.
The rules of professional conduct apply to all lawyers. However, because of nuances from one practice area to another, the rules may have a disparate impact on entertainment lawyers. The panel will address issues and recent legal authority concerning confidentiality, attorney work product and privileged information, conflicts of interest, the overlapping roles of agents, managers and lawyers, engagement and retainer agreements, compensation structure for professional services, multi-jurisdictional practice, on-line related rules and the judicial authority to oversee lawyer behavior.
Licensing Made Difficult: Issues Clearing Music Rights
12:30 to 1:30 p.m.
Licensing music is often a difficult exercise, even for professionals. At the same time, advances in digital distribution and production technology make it easy to participate in culture, including through the production of user-generated content and music mashups. Is it time to retool copyright? Solutions to make licensing music easier include registries, compulsory licenses, and voluntary collective licensing. The panel explores today's music licensing challenges and the proposals to alleviate them, including the latest from the Copyright Office.
Art Laws and Outlaws: Legal Issues in Music Graphics
2:00 to 3:00 p.m.
This panel will look at the art used to promote and celebrate popular music, and the attendant legal issues and competing interests – the rights, possibilities, and pitfalls – confronting graphic artists, bands, and their representatives, concert promoters, collectors, dealers, and third-party licensees and assignees.
Unhappy Together: The Turtles with Sirius XM
3:30 to 4:30 p.m.
In late 2014, federal courts in California and New York ruled against Sirius XM for refusing to pay royalties on their broadcasts of sound recordings made prior to 1972. These so-called "Flo & Eddie Cases" (because they were brought by the founding members of the rock group "The Turtles") could result in a huge financial windfall for many heritage artists and their record companies. They also touch the third rail issue of performance royalties for sound recordings and how they are currently paid differently for interactive media (Spotify) versus non-interactive media (Pandora) versus terrestrial media (where they are not paid at all). The panel will look at these cases and their implications.
Music on Saturday, March 21 (Room 9BC, Austin Convention Center)
Don't Ask/Don't Get: Advanced Contract Negotiations and Pitfalls
11:00 a.m. to 12:00 p.m.
This panel will identify and tackle various pitfalls in advanced negotiations of key music industry contracts. Join us as we break down recording artist/distribution agreements, management agreements, and producer/production agreements and identify those important areas that should not be overlooked. The panel will discuss these pitfalls from both the company and artist perspective.
Litigation: The Cases We Need to Know
12:30 to 1:30 p.m.
This panel explores the practical impact of recent court rulings involving, among other essential topics, copyright co-ownership disputes, joint ventures between record labels, publicity rights in performance footage, attorney fees in music royalty disputes, talent discoverers' rights in artists they find, and the costs for obtaining court injunctions in battles over band names.
Still Screaming About Streaming
2:00 to 3:00 p.m.
Streaming services are hailed as the "saviors" of the music industry yet artists and songwriters are not so sure. What should their lawyers think? In this session, the former General Counsel at the National Music Publishers Association, Pandora's counsel in its lawsuits vs. ASCAP and BMI, and Senior Counsel at SoundExchange square off for an examination of the current state of affairs for artists, songwriters, publishers, labels and music services in non-interactive streaming.
The Challenging Future of Artist Representation
3:30 to 4:30 p.m.
As the music economy changes, so too do the priorities for artist representatives. The new music order requires a different focus and creative efforts to develop, break, and sustain an artist career. The monetization of Artist talent, content and rights must be carefully negotiated and protected in transactions. Lawyers and managers in particular are tasked as professionals and fiduciaries to advise and make the right deals. This panel of lawyers and managers will identify and analyze the challenges and opportunities for artists' (and their representatives') careers.
For additional information on SXSW, visit http://www.sxsw.com/.
This program has been accredited by the State Bar of Texas, the Tennessee State Bar Association and the Minnesota State Bar Association.  It is most likely that other states will honor hours accredited by one or more of these states.